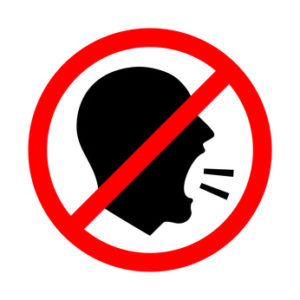 Are you a screamer? Believe it or not some people speak in decibels (dB) higher than what you may consider normal range. The decibel level for normal conversation is 60 dB,[i] and sounds louder than 90 dB can be uncomfortable to hear.[ii] Usually due to a level of frustration, screamers scream to gain attention. For example, a frustrated employer might scream at an employee to reprimand or correct, because they're disappointed or maybe someone made a mistake.
When someone is screaming at you not only does all opportunity for effective communication and interaction go out the proverbial window, work productivity decreases, and morale deflates. So that employer I mentioned a moment ago, may find an employee's response the opposite of what they were hoping to gain by screaming at them.
How do we deal with our bosses, our colleagues, our neighbors or our spouses who raise their voice to be heard? And what alternative method to screaming can you adopt so that your voice is heard without raising your ire and making you the most disliked person among your peers?
Active listening. What is active listening? When you're actively listening, you're concentrating on what the speaker is saying, not just hearing their words. You're focused on them. This may be challenging if the speaker is yelling at you but one sure way to lower their tone is to be able to tell them that you're receiving their message. When you find the opportunity, give them pause so you may repeat back, or at the very least, paraphrase back to them what you understand they've said, and that goes something like this: "I understand what you're saying is…." or "What you are telling me is…." Once the speaker knows they've been heard, they begin to simmer down and become less frustrated.
Other non-verbal cues to show the speaker you're actively listening is through eye contact. Nothing can set a screamer off more than you rolling your eyes at them or looking away from them. Let the speaker know you are focused on them through direct eye contact. You don't want to stare them down; and be mindful of your non-verbal responses to avoid delivering the wrong message.
Second, when you are the screamer YOU are exerting stress. We all know that too much stress can lead to increased blood pressure, increase your heart rate and stiffen blood vessels. These physical responses can create the potential for heart attack or stroke. [iii] There are more effective ways to communicate your point than screaming from the rooftops!
In an article by Sue Shellenbarger published in The Wall Street Journal (August 2012) she writes about Dr. John Shufeldt. Dr. Shufeldt states that to garner attention from his listeners he "lowers his voice and speaks very slowly." By doing so, he goes on to say, "It forces people to dial down their own volume just to hear you. They lean in and hang on your every word."
The takeaway:
When you're dealing with a screamer, take a breath. Quick, defensive responses only incite. Swallow. You can't speak while you're swallowing. Actively listen to what the speaker is saying so you can repeat back to them their issue or position. Show the speaker you are listening to them through eye contact and non-verbal cues that disply your interest in what they are saying.
When you find yourself being the screamer, consider adopting less stressful ways to get your point across to your listener(s). As the screamer, not only are you creating unnecessary stress on your body, but the listener will either respond in kind resulting in two screamers or one has shut down completely. Put into action stepping back from your quick, jolting response and consider a different approach. Take time to decompress, lower your tone, and bring your listeners to you rather than having to scream for them to hear you.
[i] Retrieved from https://www.healthyhearing.com/report/52514-What-is-a-decibel
[ii] Retrieved from https://www.ncbi.nlm.nih.gov/pubmedhealth/PMH0089568/
[iii] Retrieved from https://www.theguardian.com/lifeandstyle/2014/mar/09/angry-outbursts-heart-attack-stroke