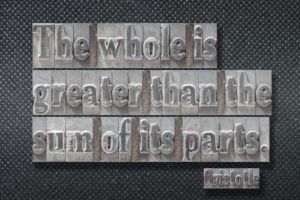 Ethos, pathos and logos – During the era of ancient philosophers, Aristotle identified three elements of effective communication; presentation, interaction and, most importantly, an engaged listening audience. All essential fundamentals to a thriving workplace. The lack thereof leads down an unproductive path and wasted time.
In an article written by John Baldoni for the Harvard Business Review (2009), he referenced an interview by New York Times writer Adam Bryant, with Richard Anderson, then CEO of Delta Airlines. In that interview, Anderson discussed his expectations for effective communication. He talks about the following scenario: How often are you in a meeting and during the presentation someone in the group is looking at their phone, not focused on the speaker? Anderson illustrates this "lack of focus" as if they are "reading a newspaper during the meeting."
When conducting a mediation conference, I set ground rules in my opening statement and ask that all phones are silenced and put away. I do this not only because the mediation is confidential but also to engage and elicit the full and undistracted attention of the parties. By doing so, all parties become focused, actively listening and involved in the proceeding.
When establishing my company, the Marketing Specialist I hired told me that I had to launch a social media campaign. I went in kicking and screaming because I prefer to keep my life private. But in the digital era, to promote one's business, engagement in social media is a necessary evil.
One day, while perusing Facebook, I read on a timeline a dialogue between a Husband and Wife. He was complimenting her on the beautiful Valentine's Day celebration she prepared for them. Very sweet. But then she responded in the timeline and declared her love for him and continued writing about their years together and how she looks forward to the years to come. Again, very sweet. But then he responded, and this "conversation" continued on and on and on via text messaging. Here's my question: Did this couple engage in any real conversation during the Valentine's Day celebration?? During that day did they not embrace, perhaps kiss and say, "I love you" to one another? Other than for the benefit of others, why is the couple communicating via text on Facebook?? And if the discussion is via text then I wonder… when, if ever, are they really communicating and listening to each other? Are they capable of having a real discussion?
The same scenario holds true in your meetings and interactions with your colleagues. While in a meeting, when we are truly listening and engaged, the participants obtain vital information which leads to conversation rather than, as Richard Anderson commented, "lack of focus."
Ethos: What you know. Pathos: Tapping in to one's emotion. Logos: Ability to reason.
Engage your audience when speaking. Make sure your audience is listening. When someone is speaking to you listen, ask questions and give them your full attention. Putting these simple steps in to action will enhance your collaborative efforts, your company's productivity and improve problem-solving techniques.