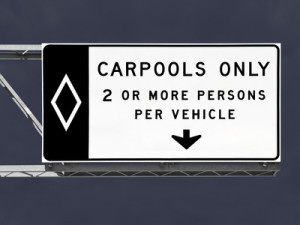 I prefer to write articles geared toward cases involving social change, issues that are meaningful and affect our lives or the lives of others, in a positive way. I also seek to find where mediation, particularly civil mediation, would assist in resolving the issue presented or could have offered a better resolution to the outcome of a story. But while perusing the news of the day I just couldn't resist this story coming out of Long Island, New York about a week or so ago.
Fearful he'd be late to his new job James Campbell was pulled over for speeding in the HOV lane on the Long Island Expressway. For those few of you who don't know the HOV or "high occupancy vehicle" lane is designed for just that, more than one occupant to allow swifter commuter travel during restricted hours. HOV lane rules and regulations may vary depending upon state and local government guidelines.
In Mr. Campbell's case his other 'passenger' was made of wood, yes wood, was wearing a hoodie and holding a bottle of water in his wooden lap. Upon pulling Mr. Campbell over Officer Jonathan Abrams asked for his license and registration and asked for ID from his passenger. Regarding the Officer's request for ID from the passenger Mr. Campbell, now chuckling, said to the Officer "I don't think so."
Not being his first rodeo, Officer Abrams has seen this before stating that it's not unusual for driver's to use fake passengers to abuse the privilege of the HOV lane. He just felt Mr. Campbell's wood figure was "not artistic" and issued 2 tickets, one for speeding and the other for occupancy violation.
So Mr. Campbell…whose chuckling now???
If you'd like to view the news feed from the local story I've attached the link here:
http://www.nbcnewyork.com/news/weird/Long-Island-HOV-fake-wooden-passenger-294380261.html