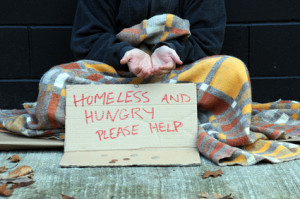 In February of this year I wrote an article (see link below) about 90 year-old Arnold Abbott, founder of "Love Thy Neighbor." Love Thy Neighbor is an all-volunteer, not for profit organization in Fort Lauderdale, Broward County, Florida committed to helping the homeless community.
Fort Lauderdale City Ordinance disallows Mr. Abbott and his organization to feed the homeless in an area along the beach. Sixteen years prior following 3 Circuit Court trials and 2 in the Court of Appeals, the state over-ruled the law. As far as Mr. Abbott is concerned this is a moot issue. None the less, the battle has not stopped. While Mr. Abbott continues his ministry, the City fines and arrests him for being in violation. Making national headlines and shedding a dark shadow over the City, finally a Judge calls for mediation, which really excited me!
I kept following this story and soon after March of this year it simply disappeared. So I called Mr. Abbott directly and had a lovely phone conversation with him. He was kind enough to take some time and speak with me and shared the details of his story.
Naturally I was curious about the mediation process, in addition to the story itself. I was shocked and quite dismayed to discover that the case NEVER went to mediation. In Mr. Abbotts' words he feels that the City used the mediation as a tool to "cool the issue" and wane publicity, which clearly it has. In the interim, Love Thy Neighbor wants to move forward because they continue to do their work and each time they do, Mr. Abbott's jail days and fines increase. He told me that he's accumulated approximately 1,920 jail days and over $16,000.00 in fines thus far as he's continued to feeding the homeless by the beach two times a week.
In his frustration with the standstill Love Thy Neighbor has filed a contempt of court action against the City. There is a hearing set in July regarding the feeding situation, hopefully a resolution will come then.
The following are statistics I've gathered to give you a greater understanding of the homeless issue across the United States, as well as in Broward County, Florida.
From The 2014 Annual Homeless Assessment Report (AHAR) to Congress Key Findings [revealed that in the United States]
• In January 2014, 578,424 people were homeless on a given night. Most (69 percent) were staying in residential programs for homeless people, and the rest (31 percent) were found in unsheltered locations.
The following information is retrieved from The CITY OF FORT LAUDERDALE 2010 – 2015 Consolidated Plan "a comprehensive strategy to address housing, economic and community development needs."
As provided on February 18, 2010, the Broward County Homeless Initiative Partnership Office conducted a Point-In-Time Count & Survey of the homeless on January 29, 2009 and found that there are 800 homeless women, men, and children literally on the street in Broward County of any given night. That is a 14% increase since the last count in 2007 and reflects the worsening economic conditions during that time frame, 20.8% of the homeless are children.
According to 211 First Call for Help/Homeless Helpline:120,018 calls received for assistance in 2008 (increase of +43% from 2007)
73,352 of those calls were for BASIC NEEDS: food, rent/mortgage, FPL, emergency shelter. · Shelter needs: 32,693 calls
Family Problems: 3,462 calls
Food Assistance: 6,889 calls (+71% from 2007)
Money Management: 2,474 calls (+80% from 2007)
1,861 new families experienced some form of homelessness in 2008
9% of those on the family waitlist are pregnant o While the numbers change on a daily basis, the following are from a recent "Homeless Family Prioritized Waitlist" (December 28, 2009):
156 families (w/317 children) were on the waitlist seeking emergency shelter,
34 of the families (w/65 children) were sleeping in their car or on the street
6 of the families were sleeping in motels awaiting shelter
15 of the families on the street/car had children under 1 years old · 21 of the families on the street/car had children between 2 and 5 years old
3 of the families on the street were under 6 months pregnant
3 of the families on the street were over 6 months pregnant
83% of the families were single mother households (*This data was compiled from the 211/The Shepherd's Way Family In Action/Coalition "Homeless Family Prioritized Waitlist")
Throughout Broward County there is a well-established Homeless Continuum of Care system, however, the need far exceeds the capacity to provide for the many families that face homelessness. The Broward County Continuum only has 61 family units for emergency shelter and 128 family units for transitional shelter.
The 2014 Annual Homeless Assessment Report. (n.d.). Retrieved June 23, 2015. https://www.hudexchange.info/resources/documents/2014-AHAR-Part1.pdf
The CITY OF FORT LAUDERDALE 2010 – 2015 Consolidated Plan. (n.d.). Retrieved June 23, 2015. https://www.broward.org/BrowardHousingCouncil/BrowardCountyCities/Documents/CP2010FtLaud.pdf
The following is the link to the article I originally wrote regarding Mr. Abbott on February 13, 2015:
https://resolvemediationinc.com/mediation-tips-and-resources/a-nice-old-man-just-wants-to-do-good-deeds/
Link to http://lovethyneighbor.org/