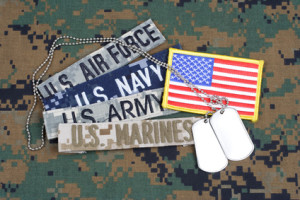 Here we go again… an HOA vs. a homeowner's display of a flag. This past Friday a U.S. Marine veteran living in a community in Kentucky received a violation notice from his HOA's Property Management Company. The Marine proudly flies the Marine Corps flag over his garage, as does one of his neighbors. In the notice he was told "U.S. flags only" are permitted to be flown. The Marine took his situation to Facebook and in return the management company began receiving a plethora of phone calls and emails defending the homeowner.
It seems all too often there is an issue between a Board and one of its members over flying a flag on their private property. Back in 2011 an Army Chaplin living in Ohio took his HOA to court over the flagpole on his property in which his flag was displayed. In 2014 an Indiana couple received notice from their HOA about the very same issue. Just this past weekend members in a community in South Carolina were being put on notice for displaying the American flag on their property.
While the Freedom to Display the American Flag Act prohibits an association from preventing a member from displaying the flag, it is the responsibility of a homeowner to read their communities Covenants, Conditions and Restrictions (CC&R's) to avoid violation issues. As in the Ohio and Indiana cases the violation was more about the flagpole rather than the flag itself, its height. In the State of Florida the statutes clearly dictate how owners may display a flag (§720.304). The same is likely expounded on and dictated in Association rules.
In the Kentucky case the Property Manager, who was somewhat new to her job, was just doing her job when she sent the Notice of Violation to the homeowner. Part of the Property Managers job is to oversee compliance on behalf of the community and the Board, so along with the social media backlash and pressure she presented the issue to the Board. Happily the Board agreed to allow the homeowner to display his flag and in a letter of apology from them, they expressed their support of our military and rescinded the violation.
It is always nice to see a positive outcome but it is important for those who choose to live in a community association, HOA, POA or COA to read their governing documents, ask questions and seek approval prior to altering one's property.