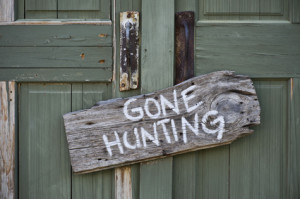 This year West Virginia's regular archery season opens September 21st. How do I know this? I acquired the information during an informative telephone conversation I had with Chris Ryan, Ph.D. , Supervisor of Game Management Services at the West Virginia Division of Natural Resources. I made a call to his office following an online article I read that really sparked my interest. 
The article discussed West Virginia's state-sanctioned urban whitetail deer hunts. Urban deer hunts? I thought hunting only happened in the mountains, densely wooded areas and swamps! Reading on my eyes really popped when I read a quote from Paul Johansen, Wildlife Resources Section Chief for the West Virginia Division of Natural Resources, who was commenting on the success of the hunts: "Once the people of a town or a homeowner association decide to allow a hunt, they usually allow them again and again and again…." Did he say "homeowner association?" 
Being from South Florida I could not wrap my head around an HOA AND a deer hunt. So I put on my Paralegal hat and began to research deer hunting in West Virginia. Warning: If you are not an advocate of hunting you may not appreciate what I am about to discuss further.
Hunting in West Virginia is not only a long standing tradition among its residents but positively impacts the state's economy in many ways. These aspects include but are not limited to, creating jobs and generating revenue in rural areas, among others. So, how did hunting out in the woods and mountains of West Virginia become extended to urban areas and homeowner associations? Mr. Ryan painted the picture for me.
He explained that the urban/HOA areas are residences ranging from a half acre to over four acre parcels. Unlike most South Florida HOA communities, and HOA's throughout the nation, clearly these are not zero lot line properties. Some, if not all of these communities are upper middle class, well maintained and nicely landscaped with flowering plants and ornamental shrubs, which deer love to eat. There is also issue with deer vehicle collisions. At any given time, during the hunting season, twenty or more deer can congregate on someone's property, eating the foliage and further damaging the property. Residents began looking for a remedy. In 2001, the State of West Virginia opened hunts to homeowners' associations.
These hunts are highly regulated. HOA's must submit a letter to the Director (of the DNR, Wildlife Resources) requesting the hunt. Archers are tested and must be licensed. Deer season does not supersede local community regulations or prohibitions and urban/HOA hunts are always archery hunts. Other regulations include that hunters must hunt from elevated tree stands so that they are always shooting down toward the ground. Other restrictions cover specific bag limits and that the first deer must be a doe and no more than two, two antler bucks. Mr. Ryan stated that in the 20 years of urban hunting there have been no complaints and if anything, restrictions have become tighter, not more liberal.
West Virginia's regular archery season always opens the last Saturday of September. There is a little perk though that the urban/HOA hunters do receive and that is the state allows the urban hunt to start 21 days early.  For example, this year the regular archery season begins September 21st but the urban/HOA hunting season will start September 5th.
I was surprised at what I learned and quite honestly, as I shared with Chris Ryan, this is one of those rare occasions where I found synergy, versus antipathy, among residents in an HOA, none the less with a state government!
Link to the online article: http://www.heraldmailmedia.com/news/tri_state/west_virginia/w-va-official-says-urban-deer-hunts-are-success/article_c546d6ba-3fb9-11e5-bd4c-e367a43ee418.html
Link to West Virginia Division of Natural Resources website: http://www.wvdnr.gov/